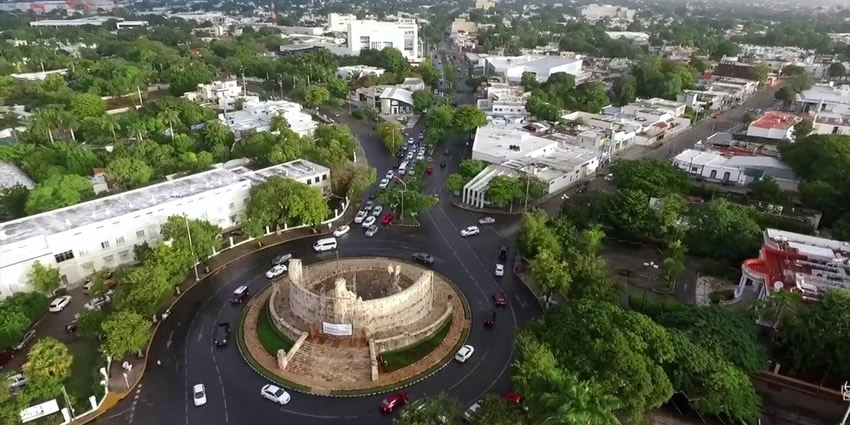 Self-guided walk through Merida's historic downtown
Walk through Merida's historic downtown and discover the colonial quarters of the city center.
A walking tour is the best intro to Merida is a walking tour through the city's downtown area. A walking tour of Merida is a perfect introduction to many of the sites and attractions all around Merida's downtown area.
Walk the famous Paseo de Montejo in Merida
You can't come to Merida without seeing the grand Paseo de Montejo. This wide avenue built in Merida's heyday conjectures images of Paris's Champs-Élysées. Historic mansions line the grand avenue, as do many quaint cafes.
Walk along the boulevard past the mansions, cafes, and museums until you reach the Monumento a la Patria (Flag Monument) which is encircled by a busy roundabout. This monument i a good spot for a photo and a good turnaround point.
The sidewalks along the Paseo de Montejo are the widest and most pedestrian-friendly in all of Merida. Frequent trees offer shade to help protect you from Merida's often intense sun.
The most scenic stretch of Paseo de Montejo is from the Montejo Monument near Plaza Santa Ana to the Monumento a la Patria. This 1.6-kilometer section can take about 30 minutes to walk, each way if taking a leisurely stroll.
To beat the heat, consider a one-way walk and return to Centro using one of the frequent public buses that run down Paseo de Montejo. Or walk back along the opposite side of the boulevard if it's comfortable outside.
You could easily spend a half-day along the Paseo de Montejo if you break apart your walk by entering museums, relaxing at cafes, gawking at mansions, taking photos, and discovering other points of interest you may stumble across along the way.
While a slow stroll is recommended to really absorb this grand avenue, you may also consider experiencing the Paseo de Montejo more quickly by car or bicycle.
Step back in time and into the historic mansions along the Paseo de Montejo
You can find two notable museums while strolling the west side of the Paseo.
While their exhibits are of interest, entering these museums simultaneously gives visitors a chance to waltz through Merida's historic mansions that are otherwise only viewed from the outside.
The Palacio Canton, also known as the Museum of Anthropology and History, showcases Mayan archaeology across two levels of a big Neoclassical mansion, pictured below.
If you don't have a chance to make it to the big Mayan World Museum (suggested earlier in this article), then the Palacio Canton provides a closer albeit smaller alternative to consider visiting to view Mayan artifacts.
If you're searching for what to do in Merida, don't overlook just taking a break in the center of town to absorb all the beautiful ambiance. The Plaza Grande is the perfect place for that.
Plaza Grande is a central spot where many local residents and travelers alike congregate during the day, into the evening, and particularly on the weekends.
Surrounded by architectural marvels, like the Cathedral and Government Palace, this central city square provides a beautiful 360-degree backdrop.
Find a bench shaded by a tree to get out of the heat and let the breeze drift by. Visit one of the many food vendors set up along the edge of the plaza to indulge in a mid-afternoon snack.
Enjoy the company you're with or practice your Spanish by making some new friends. Merida's Plaza Grande is the place to do so. Yucatan's signature dual chairs scattered throughout the plaza make it easy to chat with one another.
Plaza Grande is also the spot to snap a photo in front of the colorful Merida sign.
Plaza Grande may be the most central and well-known of Merida's plazas. Yet there are several more that you should check out while ambling about town. So also consider other interesting plazas in Merida to stop at, relax, and enjoy local life:
Parque Santa Lucia is Merida's second-most popular plaza which is lined with great restaurants.
Parque Santa Ana is a sunny open plaza in the northern part of the city downtown.
Parque Santiago is a square with an adjacent market and food vendors with turkey specialties.
There are free concerts on Thursday nights in Santa Lucia Park, and Parque Santiago has a Tuesday night orchestra with dancing that attracts an older, local crowd.
There is so much to see and experience all around the Plaza Grande's perimeter. So once you're done relaxing in the plaza, be sure to check out each of these Plaza Grande attractions.
Each of the following museums and buildings lining the Plaza Grande is entirely free to enter. And many of them are air-conditioned too, providing some much-needed relief from the heat if roaming around town in the hot afternoon.
Some of these buildings are nondescript, with no signage. Security guards are stationed in front of the government buildings, leading unsuspecting visitors to believe they are off-limits. But these buildings are actually totally open to the public.
Those of you who are now in the know can walk right past the security guards to enjoy fantastic balconies that are hidden in plain sight.
Museum of Contemporary Art, Merida
Casa de Montejo, Merida
Catedral de San Ildefonso
Palacio Municipal, Merida
Palacio de Gobierno, Merida
If near Merida's city center in the daytime, a visit to Lucas de Galvez Market Merida is a must to get a taste of local life in Merida.
Lucas de Galvez is Merida's main market every tourist should visit. You can find here everything from fresh vegetables to homemade crafts, local clothing, and lots more in between.
Merida's bustling market dates back to the late 1800s when it was just a small shed. It sure has grown since then. Today Merida's main market is a sprawling and delightfully chaotic place that's now packed with local life.
Weave your way through the hectic maze-like atmosphere and browse away at all the local goods!
You can even eat lunch at the Lucas de Galvez market. So you may want to plan to grab a bite from one of the many vendors hawking freshly made plates of food.
Mayan World Museum
If you want to learn more about the Mayan culture, and history, the Mayan World Museum is most definitely the place to do it! This expansive museum will leave visitors with a deep understanding of the Mayan civilization.
The Mayan World Museum in Merida will invite guests on a journey that begins with natural history from the beginning of time. The exhibits slowly progress to the life of the modern Maya today.
Most of those ruins lack information on the actual sites, so a visit to the Maya Museum can be a good idea to do in Merida to gain some knowledge about the Maya before venturing out to the nearest ruins.
The museum is located in Merida's northern outskirts but it is worth the visit.
Palacio Canton Museum of Anthropology
Alternatively to the Mayan World Museum, you can visit the Palacio Canton Museum of Anthropology located in the center of Merida. The museum houses a smaller number of Mayan artifacts but is also worth a visit.
Use these tags to read more related posts and reviews:
---
Let us know if this article was useful for you