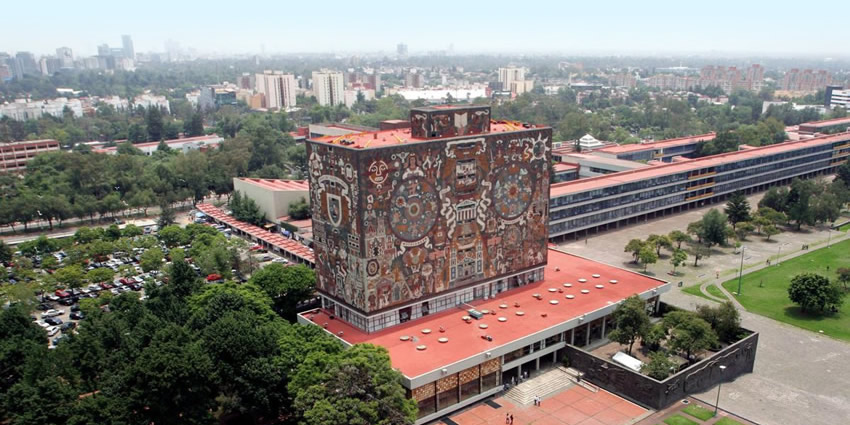 Top-ranked universities in Mexico
There are more than 1000 universities distributed in the different states of Mexico. Although most have positive characteristics, there are some that have been recognized by international media as higher quality options.
Let's talk about the best universities in Mexico and what their admission process is.
Ranking of the best universities in Mexico
Knowing the international reputation of universities can be a decisive factor in knowing where to study your professional career. For this reason, there are different companies and publications that analyze educational institutions.
Below, you will find the best universities in Mexico according to the QS World University Rankings 2022 publication, dedicated to analyzing universities from all over the world.
For the creation of its ranking, QS focuses on five parameters:
Quality of education
Employer reputation
Student-faculty ratio
Research impact
Number of foreign students
Number of foreign teachers
Therefore, if you do not find the university you want to study at in this count, it is not because it is of low quality, but because the QS criteria are very specific and some newly created or local universities do not meet them.
The most important thing is that you find a school that suits your possibilities and needs.
Therefore, no matter what state of the republic you are in, it is very likely that there is a university that is internationally recognized for its educational quality. Whether public or private, you must take an entrance exam and obtain a satisfactory score to be admitted to the university.
Here you will find the list of the best universities in Mexico to study in 2022, where they are located, and what kind of courses they offer. You can also have information about the admission process and tips to start preparing for admission.
National Autonomous University of Mexico
For several years, the National Autonomous University of Mexico (UNAM) has positioned itself as the best university in the country due to a large number of benefits it offers its students.
Currently, it has an academic offer of 131 degrees and engineering. Its central campus is in Mexico City, but it has spread to various states, so it has a national reach.
For these reasons, UNAM is also the most demanded university in Mexico. During the previous process, less than 9% were admitted and applicants needed up to 116 out of 120 correct answers on the exam to be accepted.
Check more information about the admission process here and find out how prepared you are for the UNAM 2022 call using this diagnostic exam to measure your academic level at no cost.
Monterrey Institute of Technology and Higher Education (ITESM)
Also known as the Tec de Monterrey, this university has competed in quality with UNAM since its foundation and has ranked first among the best private universities. Although it has offer 60 bachelor's degrees, it is distinguished mainly by its engineering, technology, and business programs.
ITESM has a presence in CDMX, Monterrey, Guadalajara, Querétaro and Puebla. To be admitted, it is necessary to attend an interview, as well as to present and satisfactorily pass the Academic Aptitude Test (PAA), one of the most prestigious admission exams.
Pan American University
The UP is a private institution that has offices in CDMX, Guadalajara, and Aguascalientes. Currently, it offers 23 careers and throughout its 50-year history, its Business and Finance programs have been recognized.
Applicants must submit the EXANI-II as proof of admission. If you are interested in entering any of their programs, you should also be aware of their process dates, because you will have to attend events or interviews before entering.
Anahuac University
Universidad Anáhuac is part of one of the largest private university networks in the world, with a presence in the United States, Chile, Italy, and Mexico, among others. More than 50 careers are taught at its CDMX, Querétaro, Oaxaca, Puebla, Cancún and Xalapa campuses.
If you are interested in studying here, we recommend you start studying the PAA syllabus, since according to the grade you obtain, you will be able to access scholarships and benefits to study for your degree.
Iberoamerican University
In addition to its unique educational model among private universities, the Universidad Iberoamericana, also called the Ibero, is also among those with the longest history.
Its campuses are located in CDMX, Tijuana, León, Puebla, and Torreón and, in addition to bachelor's degrees and engineering, it has Higher University Technician programs.
To enter, applicants must register online and take the Basic Knowledge and Skills Examination (EXHCOBA).
National Polytechnic Institute
The National Polytechnic Institute (IPN) is, together with UNAM, one of the most important public education institutions in the country, not only for its academic quality but also for the contributions that its graduates have made in different fields.
Its academic offer is made up of more than 60 undergraduate programs and each year it innovates with careers focused on technology and science. The only way to enter is through the entrance exam.
As an institution in high demand, we recommend that you start preparing now to obtain the necessary entrance score. Register at the following link for free and access the online course to enter the IPN.
Autonomous Technological Institute of Mexico
ITAM is a private institution that offers 15 bachelor's and engineering degrees at its only CDMX campus, focused mainly on finance and business. The route of admission is direct to the admissions department of the university and it is a requirement to present the PAA.
Metropolitan Autonomous University
Considered by some international counts, as the best university in Mexico, UAM is one of the public schools with the greatest presence in CDMX and the Metropolitan Area, with academic units in Azcapotzalco, Xochimilco, Cuajimalpa, Iztapalapa, and Lerma.
Its educational offer is made up of 65 degrees, divided into six areas of knowledge. Its admission process is established in the admission call, where the admission exam is taken into account, which has a 70% of value, and the high school average, with the remaining 30%.
Autonomous University of Chapingo
The Autonomous University of Chapingo (UACh) is a public institution located in Texcoco, State of Mexico. In total, 27 careers focused mainly on the agri-food branch are taught.
To enter, it is necessary to present an admission exam, whose syllabus is decided by the university. It also has baccalaureate programs that grant a pass to higher education.
The Autonomous University of the State of Hidalgo
Thanks to the constant dedication of its study programs, this is the first year that the Autonomous University of the State of Hidalgo (UAEH) enters the list of the best universities in Mexico.
The Autonomous University of the State of Hidalgo offers more than 40 degrees and engineering. Its central campus is located in Pachuca, but it also has offices in 9 municipalities of Hidalgo, in addition to high school campuses.
The call for admission is published three times a year and applicants must take the National Entrance Examination (EXANI-II) to be selected for the option they have chosen.
This post was contributed by CustomWritings.com, a professional essay writing service.
Use these tags to read more related posts and reviews:
---
Let us know if this article was useful for you