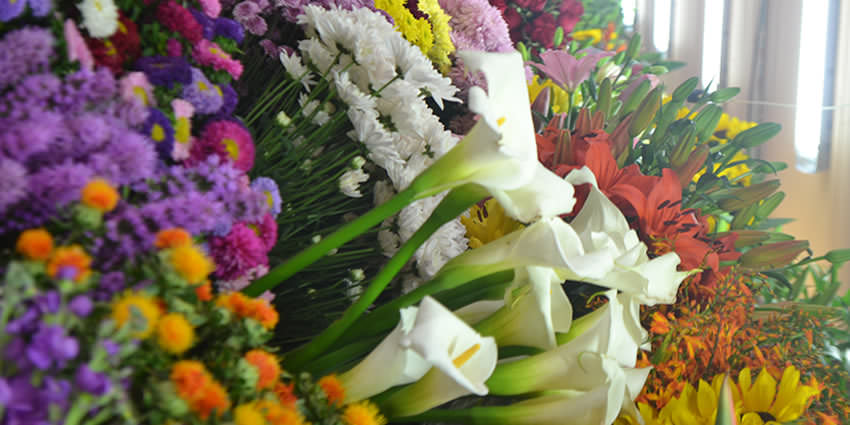 The importance of flowers In Mexico
Flowers have always been an important part of the cultural traditions of different nations. Every country has its own very particular flowers or plants, which are considered special in view of any religious rituals or historical events.
Flowers have always symbolized beauty, love, or even death. In ancient times, nations even associated flowers with gods. During some Mexican festivals, flowers are brought to the statues of the gods.
Tlaxochimaco ("Bestowal or Birth of Flowers") is the name of the ninth month of the Aztec calendar. It is also a festival in the Aztec religion, dedicated to the Aztec god of war Huitzilopochtli.
In Aztec mythology, Xochiquetzal ("Lovely Feather Flower") was a goddess associated with concepts of fertility, beauty, and female sexual power.
The importance of flowers in Mexico
The variety of colors in Mexico is striking and fascinating. Mexico is a country of diverse landscapes and each landscape has its own unique flora.
Flowers are the most significant aspect of life and have their own language. You can give flowers for any occasion, such as a birthday or a date.
In fact, there was a whole art of giving flowers, which was expressed in floriography. In this practice, different values ​​have been assigned to colors to send encoded messages and allowed messages that cannot be talked about.
So, let's look at the most beautiful colorful flowers in Mexico and their meaning.
The most symbolic and colorful flowers in Mexico
Laelia Orchid
Laelia orchid (also called rosy-tinted laelia) is from the Orchidaceae family. The laelia orchid flowers represent love, beauty, and luxury.
The flower has faint shades of pink blossoms that bloom all year round. Laelia orchids grow on rocks or trees.
Mexican Sunflower
This sunflower from the Asteraceae family is a symbol of adoration, loyalty, and faith.
The Mexican sunflower blooms from summer to the beginning of autumn on shrubs. Each shrub produces up to 120 flowers. This makes it extremely thick with stunning blooms that are identical to a daisy flower.
Bird OF Paradise
Bird of Paradise is another example of a very lovely exotic flower, which is native to Mexico. These flowers are also widely known as "crane flowers". The flowers look like the head of a plumed bird, hence the name.
They represent excellence and beauty. These flowers bloom from summer to autumn and can grow up to 6 feet tall.
Yucca Flower
This flower from the Asparagaceae family. The Yucca flowers represent purification and shaped like a bell.
It blooms in the summer, and its blooms are white, and they carry a pleasant scent.
The fruit looks like a banana and grows easily without much water, in drought areas. A portion of the plant can be ingested, and it can be used to heal specific ailments.
Belize Sage
The Belize sage from the Lamiaceae family is a symbol of protection and healing.
It blooms during the summer and can grow in compact spaces, including containers or pots. These reddish-orange flowers are small and can serve as both a garden and an indoor plant.
Sword Lily
Another of the extremely exotic flowers, which grows in Mexico is that of sword lily. The flowers are shaped like a funnel and having a wide range of colours. The leaves are linear and have a shape as that of the sword.
These flowers represent sympathy and memories. These flowers are mostly used during the Day of the Dead celebration.
The flowers bloom at the starting of summer and the colours are of different varieties like pink, red and yellow. This beauty has a height ranging from two to three feet.
Dahlia
Dahlia is from the Asteraceae family, and it is a symbol of dignity, creativity, and elegance.
It blooms from summer to autumn, and it is the national flower of Mexico. The dahlia has a large bloom with two-tone flowers. Its unique petal design catches the attention of passersby, and the dahlia can also be found in salads.
They are believed to represent people who stay true to their faith.
Mexican Honeysuckle
This is a small shrub and blooms the whole year. The colour is mostly orange and the leaves are yellow-green.
It blooms tiny and thin orange flowers in the spring. Mexican honeysuckle attracts butterflies, and some varieties of these flowers have a pleasant scent.
This flower represents happiness.
Pineapple Sage
Pineapple sage symbolizes healing, and it blooms red-colored flowers from late summer to the beginning of autumn.
This flower got its name from the pineapple-like scent it exudes, and as a result, this sage is commonly used as ground cover in a garden.
Mexican Morning Glory
This flower comes in a variety of colors, including blue, white, and purple. They represent unfulfilled love, and they bloom from summer to autumn, and it is commonly found in dry locations.
***
Author Bio: Rehan Sardar, an enthusiastic blogger and marketing manager of wittyneeds.com. Rehan Sardar maintains a keen interest in progress and development in the marketing and business space.
Use these tags to read more related posts and reviews:
---
Let us know if this article was useful for you