Aké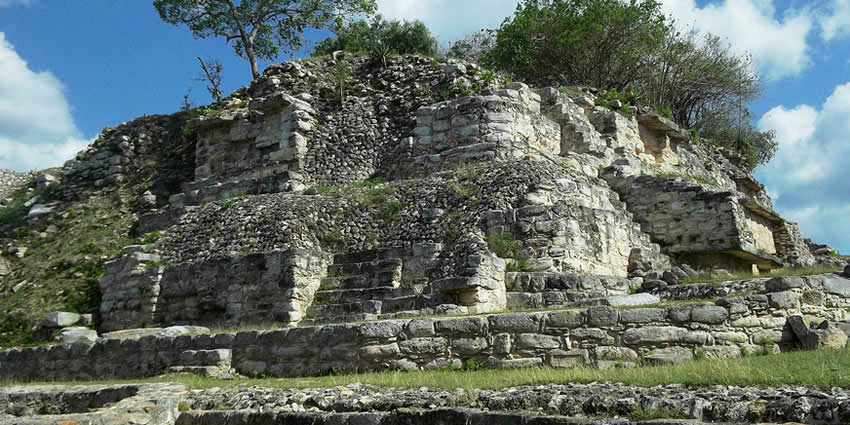 Aké is an archaeological site of the pre-Columbian Maya civilization, located in the Mexican state of Yucatán, 40 km (25 mi) east of Mérida.
The name Ake is a toponym that means "place of reeds" in Yucatec Maya.
One notable feature of the site is its system of pre-Columbian sacbeo'ob or roads that facilitate access with other settlements in the region.
The remains of an ancient Maya raised pedestrian causeway, or sacbe, runs to Aké from Izamal.
The ruins are all within a 19th-century Hacienda henequenera San Lorenzo de Aké.
Surrounded by fruit trees is the main house of San Lorenzo de Ake, that inside you can see three construction periods; beams in the ceilings of wood, iron and masonry.
The architecture dates from the Early Classic era (A.D. 250-550). They were first described in print by John Lloyd Stephens and Frederick Catherwood in the early 1840s.
Aké is bounded by two concentric walls, one defines the core of the settlement with an area of 4 km2, while the other protects the core housing. The core is large and square in shape surrounded by tall buildings measuring about 25 m2.
A great sacbé or white road of 32 km in length connects the central group of buildings of this site to the archaeological site of Izamal.
Part of this sacbé was covered later by the wall that surrounds this Mayan city and its residential area, in order to protect it from invasions. As you walk within the area you will see a large esplanade called the Great Plaza, where the most important buildings are.
The Pilastras Structure is located in the North, and you will see a stele in the south-center of the Great Plaza.
Structure One, also called the Palace, with rows of stone columns atop a step-pyramid platform; is the site's most impressive feature. While most Maya pyramids are built steep with many narrow steps, Structure One is a gradual climb of huge, flat stone slabs. This megalithic architectural style is an Early Classic diagnostic, and may also be seen at the sites of Izamal and Ek Balam.
La capilla de Aké se levanta sobre una pirámide maya y en el terreno también se ubican dos cerros más.
En esta capilla se celebra la tradición del Cristo Negro cada Sábado Santo, la cual tiene más de 137 años.
Todos los sábados de gloria de la semana Santa, los católicos hacen la visita a la capilla de aké para llevar en una peregrinación al Santo cristo a Cacalchén.
En este día más de dos mil personas del pueblo de Cacalchén van a buscar al Cristo Negro para honrarlo con oraciones que cumplen una tradición que narra que años atrás se llenó de muerte y enfemedades al puebo de cacalchén y se oró al Cristo negro para liberarlos de estos males. Así es como nace este tradación.
The easiest and cheap way to get there by bus or "colectivo" from Mérida.
You can dial 078 from any phone, where you can find free information about tourist attractions, airports, travel agencies, car rental companies, embassies and consulates, fairs and exhibitions, hotels, hospitals, financial services, migratory and other issues.
Or dial the toll-free (in Mexico) number 01-800-006-8839.
You can also request information to the email correspondencia@sectur.gob.mx
MORE EMERGENCY NUMBERS:
General Information: 040 (not free)
SNational Emergency Service: 911
Radio Patrols: 066
Police (Emergency): 060
Civil Protection: +52(55)5683-2222
Anonymous Complaint: 089
Setravi (Transport Mobility): +52(55)5209-9913
Road Emergency: 074
Cruz Roja: 065 o +52(55)5557-5757
Firefighters: 068 o +52(55)5768-3700
Use these tags to read more related posts and reviews:
---
Let us know if this article was useful for you