Ángel de la Guarda island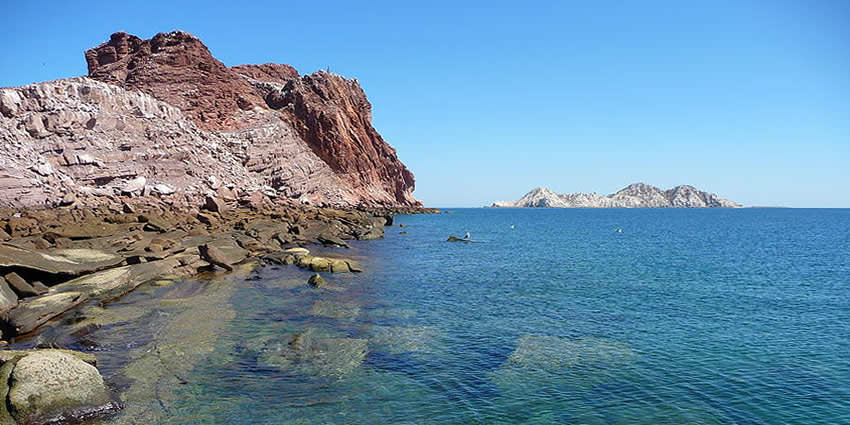 Isla Ángel de la Guarda (Guardian Angel Island) also called Archangel Island.
Isla Ángel de la Guarda is a large island in the Gulf of California (Sea of Cortez) east of Bahía de Los Ángeles in northwestern Mexico, separated from the Baja California Peninsula by the Canal de Ballenas (Whales Channel).
It is the second largest of the eleven Midriff Islands or Islas Grandes.
It is part of the state of Baja California, located northwest of Tiburón Island. The island is uninhabited and is a biological reserve called Isla Angel de la Guarda National Park. The island is part of the Mexicali municipality.
The geologically active Ballenas Fault runs along the seabed of the linear Canal de Ballenas.
A 6.9 magnitude earthquake occurred on this fault in 2009.
The island is extremely dry, with no sources of freshwater other than washes following rainfall. It has an area of 931 sq km and a chain of mountains runs along its 69 km length, reaching a maximum of 1,300 m above sea level. It runs northwest to southeast.
The west coast is roughly straight in that direction, but the east coast runs inward near the middle before heading outward until it reaches the island's widest point. The coast then runs south for a while before finally returning to its southeasterly direction.
Much of the island is inaccessible due to mountains at or near the shore, especially on the west coast. There are a few flat areas on the coast at the outlets of washes that were created by sediment.
These alluvial fans are mostly on the east coast, but a large one is found on the west coast where the island narrows in the middle. Much of the island's geology is made up of volcanic and alluvial sand deposits.
Despite its extreme dryness, the island is relatively diverse in plant and animal life. There are many types of birds and reptiles, especially lizards. The Angel Island speckled rattlesnake and Angel Island mouse occur only on the island.
The only mammals are bats, rodents, and introduced feral cats. Plants include cacti, grasses, shrubs, succulents, and boojums.
You can dial 078 from any phone, where you can find free information about tourist attractions, airports, travel agencies, car rental companies, embassies and consulates, fairs and exhibitions, hotels, hospitals, financial services, migratory and other issues.
Or dial the toll-free (in Mexico) number 01-800-006-8839.
You can also request information to the email correspondencia@sectur.gob.mx
MORE EMERGENCY NUMBERS:
General Information: 040 (not free)
National Emergency Service: 911
Radio Patrols: 066
Police (Emergency): 060
Civil Protection: +52(55)5683-2222
Anonymous Complaint: 089
Setravi (Transport Mobility): +52(55)5209-9913
Road Emergency: 074
Cruz Roja: 065 o +52(55)5557-5757
Firefighters: 068 o +52(55)5768-3700
Use these tags to read more related posts and reviews:
---
Let us know if this article was useful for you