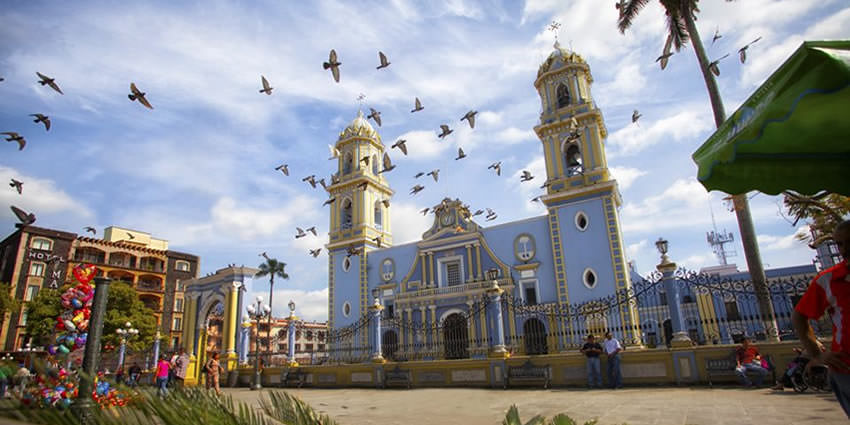 Things to do in Cordoba
The city of Córdoba is a beautiful synthesis of the state of Veracruz, as it concentrates its characteristic attractions: lavish nature, rich history, beautiful buildings, warm and pleasant atmosphere, great economic and commercial activity, delicious cuisine, and a happy and quiet population.
Located in a valley, halfway between the port of Veracruz and Mexico City, it is a city with its own charm, surrounded by places of great beauty and interest, such as Fortín de las Flores, Coscomatepec, or Atoyac.
Córdoba and its surroundings is a region of extraordinary natural beauty. It is watered by the rivers Seco, San Antonio, Atoyac, and Blanco, which have their origin in the mountains that surround it; its vegetation is forest, although there are jungle areas.
Córdoba is a good starting point for the many recreational activities that take place in the region. Already in the urban area, it has places like Alameda Rafael Murillo, which is a large park with hundreds of trees, extensive green areas, walks, rustic games to get in touch with natural life, and so on.
Like the hotels, in Córdoba, the restaurants maintain their charm and quality of cuisine and coexist with modern cafeterias dedicated to international cuisine as well as typical food and the enjoyment of the region's coffee, which prides itself on being among the World's greatest.
The Mexican city of Córdoba is twinned with Cordoba Spain, an ancient city well known for its great mosque of Cordoba.
Historical Center of Cordoba
Undoubtedly one of the most historic places in Veracruz, its center is a reflection of that past. As you walk through its streets, you will be amazed at the history that they tell you of each of the tourist places that confirm it. Undoubtedly the historical center is the most visited tourist place in Córdoba, due to the architecture of its buildings from the 17th and 18th centuries.
Parque 21 de Mayo
This spectacular park, harmonized with music coming from speakers installed in the park. You can walk through its gardens and contemplate the facade of the Municipal Palace, as well as visit the Cathedral of the Sagrario de la Inmaculada Concepción.
Municipal Palace of Córdoba
The Municipal Palace of Córdoba, of Neoclassic architectural style, dates from the Porfirian era, its construction began in 1904 and ended between 1909 and 1910, its 21 arches symbolize the heroic act of May 21, 1821.
Catedral del Sagrario de la Inmaculada Concepción
The beautiful architecture of the church is recommended point of interest in Cordoba. Inside the cathedral, you can appreciate its beautiful and fine finishes, as well as its wide corridors, where at different times of the year, different flower arrangements can be seen, as well as different altars so that people feel comfortable in the place.
Portal de Zevallos

The Zevallos Portal is the first thing to see in Córdoba, since this was where the Córdoba treaties were signed, this place is considered a historical monument due to its cultural importance. 
Located in front of Plaza 21 de Mayo, this portal is declared a national monument for its architecture and for being the place where the Córdoba treaties were signed in 1821.
Currently, this tourist place houses the Los Portales Cultural Center, an area open to artists to exhibit their works, and the El Balcón de Zevallos Restaurant, with an unbeatable view. Danzón classes are given every Tuesday afternoon.
Museum of the City

The City Museum is another of the places to visit in Córdoba. The city museum currently is located inside the Portal de la Gloria.
This tourist place has six rooms, four of them dedicated to archeology with samples of the Olmec, Mayan, Huasteca, Teotihuacan, and Totonac cultures, a history room, and one more for temporary exhibitions.
Considered the most important in the city, you should not miss it for the beauty of its headquarters and the interestingness of its rooms.
Coffee Museum

The museum is located in front of Parque 21 de Mayo. Here you can learn about the history and coffee identity of Córdoba, through this tourist place.
Inside the museum there is a "Sample Farm", to know the nine varieties of coffee, a "Process Hut", where the way in which the artisanal cut of coffee was processed at the beginning of the last century and in its two rooms, tools for coffee work and photographs are exhibited.
In a guided tour (approximately 2-3 hours) you will learn all about the whole process to make coffee and tea, and at the end of the tour (approximately 2-3 hours), they offer you a coffee tasting.
Pedro Díaz Centennial Theater
This theater was built in 1889 and was inaugurated in 1896 maintaining its original decoration until 1905. It was replaced by columns on pedestals and with a neoclassical target at the top, its facade is not perpendicular to its axis because it has a horseshoe style typical of the Porfiriato.
It is the official headquarters of the Emilio Carballido International Festival and the Córdoba International Jazz Festival.
Church of San Sebastian

It has French influence and its dome is made of bronze. It was used as a military barracks for Francisco I. Madero's army but returned to worship years later, losing its altars.
Cultural Center "Casa Baltazar"
The Casa Baltazar Cultural Center is a place that you should visit to take advantage of your visit to the city, which used to be an industry where coffee was roasted, now converted into a building where coffee and art are combined. 
Ex-Convent of San Antonio
It is a temple considered unique in the nation also because it has two flat vaults, it was built in 1686 which makes it the oldest church in the city, it was used as a Franciscan convent but years later it was used as a military barracks, later it housed the fire station and finally returned to function as a church.
Parish of San Miguel Arcángel
It is the church that has changed its structure throughout history in the city, it is neo-Gothic in style and consists of two towers that are the second tallest in the city behind those of the cathedral.
Former Hacienda de San Francisco Toxpan
Located 10 minutes from downtown, his tourist place dates from 1690. It was one of the first sugar mills in the country and one of the most productive in Veracruz.
The Ex-Hacienda de San Francisco Toxpan is one of the favorites of tourism in Córdoba since it is an old sugar mill, which has been restored overtime to make it attractive. It preserves some of the original machinery that was used at that time, as well as extensive gardens and beautiful architecture, ideal for taking photos.
Currently, it has been rehabilitated to become a Cultural Center, with spaces for performing arts, plastic, and training.
It is also home to the Museum of Cane, where you will learn about the history and the process of making sugar.
Toxpan Archaeological Zone

The Toxpan Archaeological Zone The Toxpan Archaeological Zone is another place to visit in Córdoba.
This place consists of around 21 archaeological structures that have not yet been fully explored.
Ex Hacienda de Guadalupe
Located in Amatlan de los Reyes, 30 minutes south of Córdoba
For more than three centuries, this farm is one of the most representative of the State. Here, slaves brought from Cuba and Africa were previously trafficked.
Today it is a tourist place of history and coffee production, where Arabic beans are grown and exported. Guided tours are offered to learn from the harvest to the roasting of the coffee and to finish, a tasting.
There you will find Arabic coffee plantations, tours of the coffee plantations, explanations of the roasting process, as well as workshops and the delicious tasting with the beautiful landscape of the hacienda.
Use these tags to read more related posts and reviews:
---
Let us know if this article was useful for you