Best beach destinations in Mexico you should visit in your next trip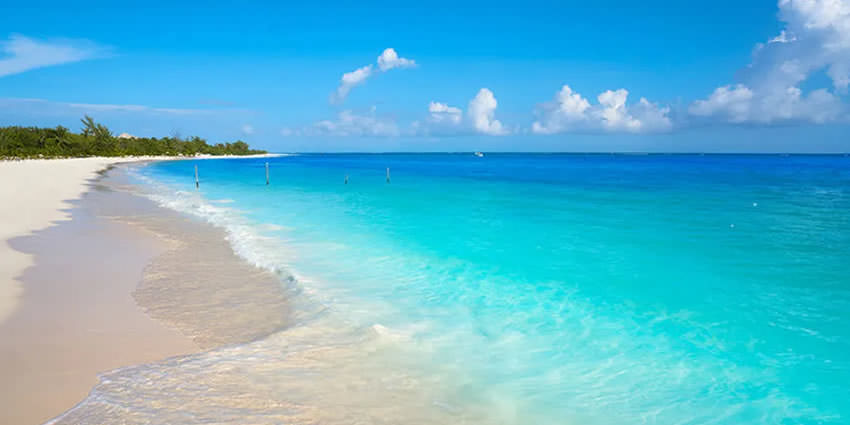 Mexico is a vast country with an extensive coastline that hosts some of the world's most jaw-dropping beaches.
There are nearly 500 absolutely spectacular beaches in Mexico, spanning the Gulf of Mexico, the Caribbean Sea, the Gulf of California, and the Pacific Ocean.
These Mexican beach destinations in particular are sure to make you want to book a trip there ASAP.
Famous picturesque Playa Ruinas is the beach that most often represents Tulum, with its beautiful white sands and turquoise waters home to well-preserved Mayan ruins.
The clifftop Castillo ("Castle") was constructed as a watchtower in the 13th century and is now the third most visited archaeological site in all of Mexico.
The beach itself with its warm Caribbean waters is popular for swimming, snorkeling, diving, and all manner of water sports, while a number of restaurants, cafes, and shops are available to enjoy after a day of fun in the sun.
Lover's Beach, officially known as Playa del Amor, is one of Mexico's most famous beaches.
The beach is easily accessible by water taxi from the Cabo marina and boasts some incredible rock formations, fascinating caves, and clear azure waters. On the Sea of Cortez side, you can enjoy some outstanding snorkeling too.
While you're here you can enjoy dining at the area's many upscale restaurants, as well as take part in the happening party scene with numerous cozy bars and clubs.
Balandra Beach is the very best beach in all of Mexico.
Located a short drive from the city of La Paz, it boasts ultra white, soft sands that frame a gorgeous lagoon with clear cerulean waters that make it look as if it should be in the Caribbean.
This place is home to a unique mushroom-shaped rock that's easy to swim out to, or even walk to when the tide is low.
In nearby La Paz, stroll the promenade that hugs the shoreline known as the Malecon, a beautiful place to enjoy a sunset as well as to dine at waterfront eateries and shop for local goods.
Chen Rio Beach is located on Cozumel, an island located off the Yucatan Peninsula.
Considered one of the top diving and snorkeling destinations in the Western Hemisphere.
Explore a spectacular underwater world and enjoy soaking up the sun and sand, or rent a scooter and explore some of the lesser-visited areas of the island, Mayan ruins, and a marine park.
Nestled between the Sierra de la Laguna mountain range and the Pacific Ocean, Todos Santos is a fabulous arts community, with a thriving food scene and a nearly always empty beach that stretches for miles.
Punta Lobos is an ideal place for surfing. Don't forget your board, or just enjoy long strolls, watching the baby sea turtle releases and some of the most stunning sunsets on the planet.
Playa Norte ("North Beach"), is the main beach on Isla Mujeres, a tiny island just 10 miles off the coast of Cancun.
Playa Norte is famous for its glistening white sands that are lined with palm trees, and strikingly clear warm waters that are calm, shallow, and for safe swimming and snorkeling.
At Playa Norte you can rent a lounger at any one of the beach clubs, and enjoy live reggae parties starting at sunset with live salsa music and dancing on Sunday afternoons.
Hobox is a small island located just three hours from Cancun, the best-kept secret on the Yucatan Peninsula, offering a tranquil escape with seven miles of postcard-perfect sands and crystal-clear cerulean waters.
While there is little in the way of facilities, and no upscale hotels, unspoiled beaches can be discovered around every corner.
Every year from May through September, whale sharks gather in this area to feed on the plankton-rich waters that have made it one of the best destinations on Earth to see or even swim with the ocean's largest fish too.
The island is also a bird watcher's paradise, with more than 150 bird species, including flamingos and pelicans.
Playa de Tecolote or Tecolote Beach is one of the best beaches for swimming near La Paz and the entire Baja Peninsula.
Enjoy barefoot dining at the casual eateries on the beach, which serve tasty local dishes while gazing out at the brilliant waters in varied shades of blue and out to the uninhabited island of Espíritu Santo.
Wave runners and paddle boards are available for rent too.
Playa Maroma, or Maroma Beach, has become one of the Riviera Maya's top resort destinations, offering luxurious accommodations and indulgent amenities to its already enticing natural advantages.
Playa Maroma boasts a lush tropical backdrop, bordered by mangroves and jungle, along with perfect white sands and extraordinary Caribbean waters in a shade of blue that causes jaws to drop.
Cabo Pulmo is also named the "jewel of the East Cape".
Cabo Pulmo is a breathtaking 70-mile coastline that arcs from San Jose del Cabo to Los Barriles.
The unspoiled beaches give way to a calm, shallow bay that houses one of just three living reefs on the entire continent, located in a 10-mile-long by a three-mile-wide underwater park.
This area has one of the oldest living coral reefs and has the highest concentration of sea life in the Sea of Cortez, including tropical fish, manta rays, sea turtles, sea lions, moray eels, and bull sharks.
No matter where you are on the beach, you can expect to catch some of the most glorious sunrises you'll ever wake up to.
Use these tags to read more related posts and reviews:
---
Let us know if this article was useful for you