Monterreal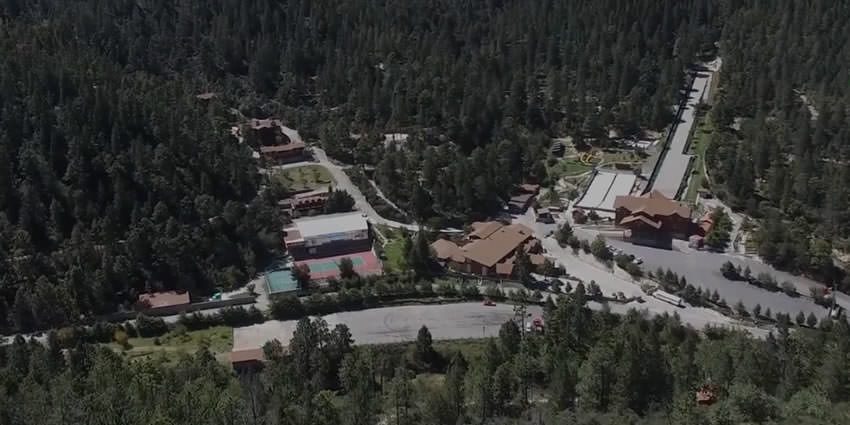 Monterreal is a small ski resort situated in the municipality of Arteaga, in the southeast of the Coahuila state, Mexico, located 40 minutes from Saltillo and 90 minutes from Monterrey. It is the only commercial ski center in Mexico.
Bosques de Monterreal ("Forests of the Royal Mountain"), one of those rarities of Mexican tourism: a golf-ski resort. That's possible because of its altitude, ranging from 8,580 feet above sea level to 11,880 feet.
The Sierra Madre mountains along the Monterrey-Saltillo highway are very spectacular. The one side is fertile, apple-growing valleys, but on the other side is a remote thick alpine area with towering pine trees.
It is generally possible to ski between December and February, with natural snow.
The air is chilly, even during summer. Nestled among the trees is one log cabin after another.
Monterreal claims to be Mexico's only all-year ski resort. And while snow covers the slopes in winter, in the summer — when people still come to practice their moves — the runs are down a 200-yard artificial slope of plastic, a lattice-textured mat that is kept wet to remain slippery.
The Monterreal ski center has two runs. The main slope has a run of 230 meters. A separate 45 m long slope was specially designed for beginners and toboggans.
The main slope has a spring-box type drag lift and the teaching/play area has a conveyor type lift. The main track has a slope of about 20 degrees. In terms of difficulty, it can be considered as a blue run.
An adjacent snowboarding slope for children is summarized with wet, white-painted artificial turf.
Golfing is a big summer draw here as the golf course and clubhouse are situated at the cloud level among pine trees. Each of the nine fairways ends with two different greens, so golfers can play 18 holes.
The resort property is a mix of hotel log cabins and lots with private second homes of Mexico's affluent. It dates back two decades but has been built in stages. The golf course was added 15 years ago.
The varnished-log cabins, mostly spaced so far apart you cannot see the next one because of the trees, are the star attractions. Solidly built with flagstone-veneer foundations and Saltillo-tile flooring, they are handsomely furnished, complete with kitchens, appliances and dishes.
Some cabins are three stories high and include four bedrooms and three baths. Fireplaces are accented with antler chandeliers.
The large cabins can accommodate 10 people easily, making it perfect for weekend family reunions. There's a fine restaurant, but most guests bring food to cook at their cabins.
The resort has its family activities, too, including horseback riding, tennis, an indoor pool and bicycling.
Some activities are free, such as hiking and the indoor pool. Horseback riding, ATV rentals and bicycling have fees. Skiing equipment is available for rent, and fees are charged for the ski slope and golf course.
The easiest way to drive to Bosques de Monterreal, almost an hour's drive southeast of Saltillo.
From Monterrey, take Highway 40 toward Saltillo, exiting on Highway 57 south toward Matehuala.
Take the exit for the town of San Antonio de las Alazanas.
Signs along Highway 57 also indicate Monterreal is in the same direction.
Use these tags to read more related posts and reviews:
---
Let us know if this article was useful for you