Mulchic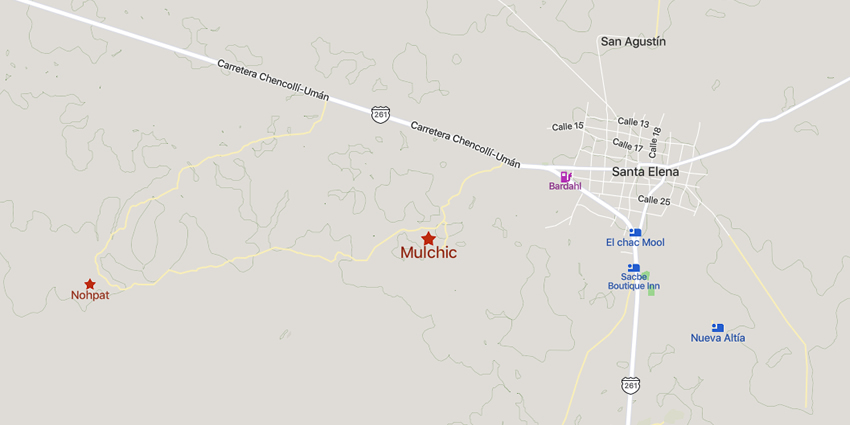 Mulchic is an archaeological site belonging to the Mayan culture in the so-called Puuc region (or Puuc Valley), located in the south of the state of Yucatan. The Puuc Region is known for its impressive Maya archaeological sites.
The Mulchic archaeological site is located a short distance from Santa Elena between Uxmal and Kabáh. Also close to the sacbé that joins Nohpat with the last two mentioned sites.
Mulchic was a ceremonial center that constituted a transition site for the populations of Uxmal and Kabáh in the Puuc region. Its main settlement took place according to the archaeologist Ignacio Marquina towards the end of the classical period between the years 600 and 800 AD. C.
The site has several structures, among which a temple of approximately 300 sq m in which important frescoes were found to be preserved and avoid their depredation, were transferred to the city of Mérida, in whose archaeological museum they can be observed.
The aforementioned structure consists of a large vaulted room with projecting slabs with a half-destroyed crest on the façade, whose stucco decoration represents human and animal figures.
Mexican archaeologist Román Piña Chan considers the site a Late Classic period development.
In the frescoes found and transferred to Mérida, there is a scene of a rain request ceremony with human sacrifices (prisoners of war) in which there is the presence of Mayan priests with attributes of the main Mayan deities. There are also war scenes in the frescoes.
Among the archaeological findings, it is noted that this temple or main structure was, over time, filled in with stones, rising on top of it a new stepped structure that has lost all of its upper portions, but that clearly shows an overlap that was built at different times.
The ceramic vestiges found on the site fully correspond to the Puuc style, but the structures lack the typical decorative elements, suggesting Mulchic's transitional role with historical significance intact.
Use these tags to read more related posts and reviews:
---
Let us know if this article was useful for you