Top activities in Cancun and around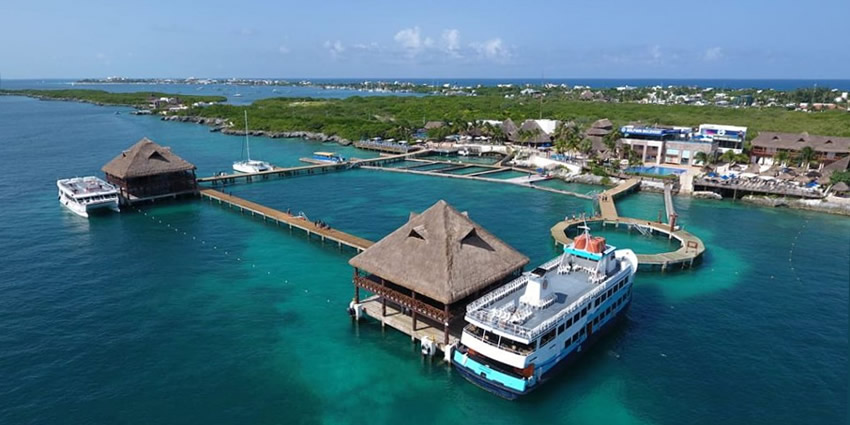 It seems incredible to think, when you arrive in Cancun, that all this was once a small fishing village. However, today Cancun is perhaps one of the most popular tourist destinations in the world. It could be said that Cancun is two cities in one.
On the one hand the Hotel Zone, and on the other the Downtown area, where local residents live. If you go through both sides you will see some notable differences, between modernity and the large shopping centers of the Hotel Zone, the old buildings, and the popular markets.
The best time to travel to Cancun is between the months of June and October when temperatures are between 32°C and 35°C. However, between June and mid-August tropical rains usually come, which fall in abundance, but are of short duration.
What to do in Cancun?
There are many tourists who come to Cancun, lie on the beach, and thus spend their vacations. Big mistake. There are a lot of opportunities in Cancun and its surroundings. From scuba diving, water skiing, hiking, windsurfing, and much more.
Diving is something that you have to do almost compulsorily since Cancun has one of the most interesting coral reefs in the world.
Don't miss the unique experience of swimming with dolphins in Cancun. To swim with dolphins in Cancun and Isla Mujeres is an unforgettable adventure you should try. You can also visit the Punta Nizuc water park or go fishing on the high seas, or boat trips to watch birds.
In Cancun you can enjoy beaches for all tastes. Beaches to go with the family and simply lie in the sun, such as Las Perlas or Playa Linda, as well as beaches with very good restaurants such as Playa Langosta and Playa Tortuga, an ideal place to take a boat to Isla Mujeres.
Playa Caracol is a beach with traditional bars and many shops, just like Playa Chac Mool, with its beach bars. These two previous beaches, along with those of Gaviota Azul, Marlin, Ballenas, and Playa Delfines, have a slightly stronger swell, ideal for surfing.
You can also make excursions to Mayan ruins, a crocodile farm, a botanical park, bicycle routes, and even two golf courses.
One day excursions from Cancun
One of the essential excursions that you have to do in Cancun is to the Mayan ruins of Chichen Itza, with its pyramids and temples, a place inhabited for more than two thousand years. The Pyramid of Kukulkan dominates the entire site area with its wide stairs on both sides.
You also can visit the archaeological site of Coba, another archaeological site of the pre-Columbian Mayan culture, located about forty km northwest of Tulum. The Nohoch Mul pyramid, 42 meters high is the tallest pyramid in the north of the Yucatan Peninsula.
Gastronomy in Cancun
A tourist city like Cancun has everything to eat, from local products to international cuisine, as well as fast food such as hamburgers, hot dogs, etc… Try the local cuisine, which is the best in all of Mexico since it mixes Mayan and Spanish influences.
A dish that is not missing from any Cancun menu is the "Cochinito Pibil", a baked suckling pig, which is served between banana leaves and with achiote sauce. Try the famous "panucho" – some fried tortillas with black beans, chicken, and pickled onions, are also not lacking.
Nightlife in Cancun
Cancun never sleeps, and that's why it has a large number of nightclubs, nightclubs, and bars of all kinds.
The animation is concentrated in the Hotel Zone, and everything begins to emerge from 22:00. The music in some places does not stop until dawn. Foam parties, bikini contests, and even parades through the streets with traditional dances.
Transportation in Cancun
In Cancun, there are buses that connect both the Downtown area and the Hotel Zone. In addition, you can also travel by bus to Valladolid and Mérida or travel the entire Caribbean coast through highway 180. There are also bus routes between Playa del Carmen and Tulum.
And if you want, nothing better than a ferry to get to Isla Mujeres or Isla Cozumel.
Dolphin Discovery is located in the southern part of Isla Mujeres. This fantastic place is surrounded by bright green palm trees, dark blue, turquoise crystal clear waters, and white sands.
Dolphin Discovery offers an unforgettable experience of swimming with dolphins. Feel the thrill of being pushed around by dolphins. Swim also with sea lions, manatees, sharks, and rays in their natural habitat!
Did you know?
Dolphins have a great need for communication and great abilities in interspecies communication. The dolphin skillfully uses non-verbal ways of communication in his play behavior. All this creates a strong and positive atmosphere around this method of therapy.
Communication with dolphins reduces the frequency of asthma attacks in 38%, and in 61% of cases improves concentration. Diabetics have significantly lower blood sugar levels. Dolphins are able to correct various kinds of neuroses.
This technique makes great strides in the treatment of oncological diseases and the rehabilitation of vision. Communication with a dolphin brings very good results in post-traumatic syndromes and severe stress.
Use these tags to read more related posts and reviews:
---
Let us know if this article was useful for you