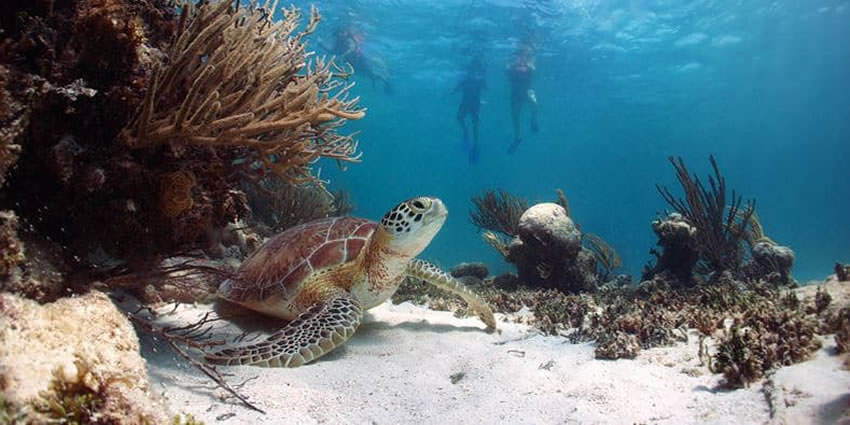 Where to snorkel in Cancun?
The Caribbean Sea is one of the best diving destinations in the world. Diving is a must-do for anyone vacationing in the Riviera Maya. The underwater world of the Caribbean is rich in marine life and magnificent underwater landscapes.
The water temperature throughout the year is 24-26 C degrees, and its transparency sometimes reaches 150 meters, which creates the feeling of floating in the air and will give you a lot of pleasant impressions.
Where to snorkel in Cancun and around?
Snorkeling in Cancun and its surrounding areas is an enchanting experience that unveils the beauty of the underwater world. With crystal-clear waters, vibrant coral reefs, and diverse marine life, it's a paradise for snorkelers of all levels.
Whether exploring the tranquil waters of Punta Nizuc, encountering graceful sea turtles near Isla Mujeres, or diving into the vibrant reefs of Cozumel island, snorkeling in Cancun guarantees unforgettable moments of wonder and awe.
Immerse yourself in the stunning aquatic landscapes and get ready for a truly mesmerizing adventure.
There are many magnificent diving and snorkeling spots near Cancun.
Diving in cenotes
Cenotes are a characteristic chain of underwater caves, wells, and underground lakes on the Yucatan Peninsula. There are more than 1000 of them on Yucatan – there is no such number of cenotes anywhere else in the world.
The unique geological formation of cenotes in the Yucatan Peninsula is a result of the collapse of limestone bedrock, creating a natural wonder that attracts divers and explorers from around the globe.
Near Cancun, Playa del Carmen, and Tulum, there are about 15 cenotes, open to most divers.
Best cenotes for snorkeling near Cancun:
Dos Ojos
Chac Mol
Tajma Ha
Kukulkan
Calavera
Angelita
Punta Nizuc
Punta Nizuc, located near Cancun in Mexico, boasts a vibrant ecosystem teeming with marine life. This area is home to turtles, lobsters, starfish, and a lot of many other sea critters that live among the coral and algae.
Its offshore reef serves as a sanctuary for an array of fascinating creatures, including sea turtles, colorful lobsters, graceful starfish, and an abundance of other diverse marine species that find their habitats among the coral formations and algae.
Exploring the crystal-clear waters of Punta Nizuc offers a captivating and immersive experience for snorkelers and divers eager to witness the mesmerizing beauty and unparalleled biodiversity of the Caribbean Sea.
Isla Mujeres
Located just off the coast of Cancun, Isla Mujeres is a charming island village that can be easily explored in a single day, allowing visitors to soak in its laid-back atmosphere and natural beauty.
The island is renowned for its tranquil snorkeling spots, where you can immerse yourself in calm waters and have the chance to encounter graceful sea turtles, creating unforgettable moments amidst the vibrant marine life.
This island village is easy to explore in just 1 day.
Isla Mujeres is a true paradise for nature enthusiasts and snorkeling aficionados seeking a serene and awe-inspiring experience. There are a lot of impressive places where you can snorkel in peaceful waters and observe sea turtles.
Cozumel island
The reefs of Cozumel stretch along the coast of the island, providing a home for brightly colored tropical fish and pristine natural gardens.
There are about 60 dive sites near the island of Cozumel, among which there are both simple for beginners and sites for experienced divers. This has been a favorite activity among tourists for years.
Here, near Cancun, originates the Mesoamerican Barrier Reef (Small Barrier Reef) – the second largest reef in the world. Its length is over 800 kilometers. The coral formations in the shallow waters are diverse, vivid, and vibrantly colorful.
Here you will find a huge number of the inhabitants of the Caribbean Sea.
Underwater sculpture park
The park is located between the coast of Cancun and Isla Mujeres. It was created by sculptor Jason Decker Taylor in 2009.
The Underwater Sculpture Park, created by sculptor Jason DeCaires Taylor in 2009, lies between the coast of Cancun and Isla Mujeres, providing a unique and artistic underwater experience for visitors to admire and explore.
There are so many best places to stay in Cancun and surrounding areas.
There are about one and a half hundred hotels in the town, a third of them belong to luxury five-star complexes. Along with the classic B&B, there are many all-inclusive, family, and adult-only hotels for all budgets.
Use these tags to read more related posts and reviews:
---
Let us know if this article was useful for you