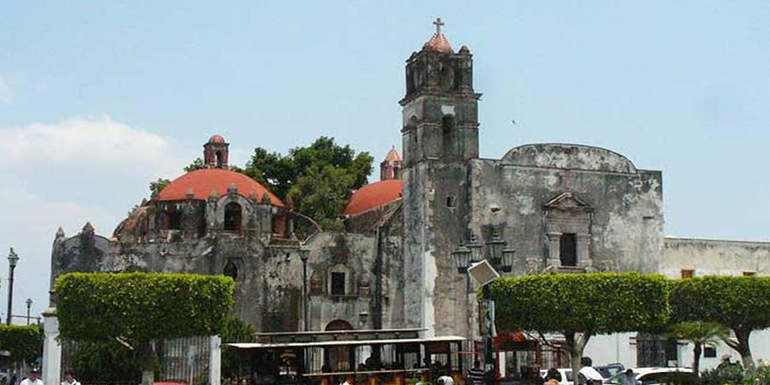 Cuautla de Morelos
Cuautla is a town located in the state of Morelos, Mexico. Nestled within the lush landscape of central Mexico, Cuautla holds historical significance, and natural beauty, that make it a compelling destination for both locals and tourists alike.
Cuautla is situated approximately 110 km southeast of Mexico City, making it an easily accessible spot for travelers.
The city is located in the Morelos Valley, surrounded by the Sierra de Huautla to the east and the Sierra de Ajusco-Cicinaucin to the west. The region has a varied landscape, including fertile valleys, rolling hills, and nearby volcanic peaks.
The municipality covers 153.651 sq km, and it is the third most populous city in the state of Morelos, after the cities of Cuernavaca and Jiutepec. In the 2010 census, the city of Cuautla's population was 154,358.
The name "Cuautla" has its origins in the Nahuatl language.
The name is a combination of two Nahuatl words: "cuauhtli" ("eagle") and "tlān" ("place" or "land"). When combined, "Cuautla" can be roughly translated to "Place of the Eagles".
The choice of the eagle as part of the name likely reflects the importance of eagle imagery in Aztec culture.
The eagle was a powerful symbol associated with warriors, nobility, and strength. Eagle warriors, known as "Cuāuhtin," were a prominent and respected class of Aztec warriors who donned eagle feathers and were known for their courage and skill in battle.
The oficially name is "Heroica e histórica Ciudad de Cuautla" ("The Heroic and Historic Cuautla") or H. H. Cuautla, Morelos.
Cuautla experiences a warm tropical climate, with dry and hot weather during most of the year.
The temperature tends to remain fairly consistent, averaging around 24-30°C. The rainy season occurs between June and September, bringing a respite from the heat and turning the surroundings lush and vibrant.
The ideal time to visit Cuautla is during the cooler and less humid months, which typically fall between November and February. This period offers comfortable temperatures for exploring the city and its attractions without being overwhelmed by the heat.
Pre-Hispanic Cultures Era
The presence of an Olmec group in Chalcatzingo, where they actively developed their culture (Piña Chan), stands as a pivotal and foundational event that marks the very commencement of the rich historical narrative of Cuautla de Morelos.
During their migration, they founded or influenced several towns, including Tepalcingo, Jonacatepec (Las Pilas), Cuautla, Olintepec, Atlihuayan, Oaxtepec, Gualupita de Cuernavaca, and Tlayacapan
Tenochca Conquest and Tribute
After five years of the conquest of Cuauhnáhuac (Cuernavaca) by Itzcóatl, Moctezuma Ilhuicamina, a significant figure in the formation of the Aztec nation, conquered Huaxtépec, Yautepec, Tlayacapan, and other towns in Morelos and Guerrero.
In Oaxtepec, Moctezuma Ilhuicamina built his palace and established it as the pre-Hispanic and colonial center of the Plan de Amilpas towns. The town of Cuauhtlah, within this region, had to provide regular tributes to the Aztec empire.
Colonial Era
The Spanish did not conquer each individual town in the Plan de Amilpas region by force but rather targeted the central town, Huaxtepec, in 1521 under Captain Gonzalo de Sandoval.
The success of sugarcane cultivation led to land appropriation from indigenous communities. In 1580, the Dominican friars constructed the Santiago Apóstol convent in Cuautla. Later, in 1640, the Franciscans built their own convent.
Silver mines were opened in the southern Sierra near Cuautla in the late 16th century. The Spanish Crown replaced Oaxtepec's pre-Hispanic center with a royal administration in Cuautla in 1585.
By 1609, this region was designated as the Alcaldía Mayor of Cuautla de Amilpas. It had royal houses that functioned as customs offices, recording the gold and silver shipments from Cuautla to Veracruz and then to Spain.
Mexican Independence
One of the most intense battles of the Mexican War of Independence took place in Cuautla.
The Siege of Cuautla started on February 19 and ended on May 2, 1812. General José María Morelos defended the city against the Spanish forces led by General Félix María Calleja del Rey.
The city was eventually taken by Morelos' forces, marking a significant event in the struggle for Mexican independence.
Creation of the State of Morelos
On December 23, 1857, Cuautla became the center of the Ciudad de Morelos district within the Cuernavaca district.
After the establishment of the state of Morelos, Cuautla became a municipality and the first capital of the state. It served as the administrative center and district seat under the Provisional Organic Law of March 15, 1870.
Mexican Revolution
During the Mexican Revolution, Cuautla was the first city to be taken by the rebel forces of Emiliano Zapata. Zapata's revolutionary movement, driven by the demand for land restitution, gained momentum in the region.
Zapata's Legacy
Emiliano Zapata's legacy is deeply tied to Cuautla. He led the revolutionary movement demanding land rights, and his famous Plan de Ayala was formulated in the region. His remains were brought to Cuautla, where he currently rests.
Ceremonies are held every April 10th to commemorate his death.
The history of Cuautla de Morelos is marked by its pre-Hispanic roots, Spanish colonization, pivotal roles in Mexican independence and revolution, and its association with Emiliano Zapata's struggle for agrarian rights.
The vast majority of buildings in Cuautla are made of stone and cement with metal rod reinforcements. Also, many homes in this city, are made with only cinder blocks, cement, and a tin roof. Many of these homes also lack electricity and running water.
Nearly all homes have a "tinaco," which is a large plastic container for water, which is refilled regularly by the city. These containers let water out into pipes which can be opened or closed to wash clothes and dishes or to bathe.
The heart of the city, the Zocalo, is a square where locals gather.
Parroquia de San Diego is a historic church showcases colonial-era design and artistic elements.
The Morelos Museum contains artifacts and descriptions about Mexico's War of Independence from Spain. It honors José María Morelos, whose rebel troops managed to hold off Royalist troops for 58 days.
The Museum adjoins the old narrow-gauge railroad which was used to haul sugar cane to the local mills.
The narrow gauge was retired in 1973. The tomb of the famous Mexican revolutionary hero Emiliano Zapata is also located in this city, and every year several festivities are held around the anniversary of his death.
Los Limones Waterpark is a great spot for families. This waterpark features pools, slides, and various recreational activities.
The Tren Escénico is a 914 mm narrow gauge tourist railroad offering train rides pulled by a historic steam locomotive once used by the former Interoceanic Railway of Mexico.
Iztaccíhuatl-Popocatépetl National Park: While not directly in Cuautla, this national park is nearby and offers opportunities for hiking and exploring the volcanic peaks of Iztaccíhuatl and Popocatépetl.
Traditional Markets: Explore local markets to discover artisan crafts, fresh produce, and delicious street food.
Cultural Festivals: Depending on when you visit, you might have the chance to experience local festivals and celebrations that showcase the city's traditions and heritage.
Balnearios and Hot Springs: Cuautla is known for its "balnearios" (thermal pools) and hot springs. These natural hot springs offer a relaxing escape and are especially inviting during cooler months.
The area is a tourist-friendly region with abundant hot springs and health spas/resorts. It features many archeological sites such as Chalcatzingo and indigenous communities such as the Tepoztlán and Tetelcingo among others.
Agua Hedionda ("Stinky Water"), classified as one of the important water springs of the world due to its chemical composition, is also located in this little city. These waters have a characteristic smell reminiscent of rotten eggs because of their sulfur content.
Cuautla de Morelos is a destination that combines history, natural beauty, and local charm, making it a delightful place to explore and experience the culture and landscapes of Mexico.
January 6: Día de Reyes
February 5: Día de la Constitución
March 8: Día Internacional de la Mujer
August 25: Noche que Nadie Duerme (es)
September 16: Día de la Independencia
Some roads in Cuautla are not paved.
Public transportation is mainly dominated by a metro bus system. These buses are referred to as "combis." These buses are small and can hold up to roughly 10 people. Also, taxis are available, but less common.
Cuautla contains many bus terminals, for long-distance travel, such as the Terminal Central de Autobuses del Norte (es), with destinations as far as Monterrey, Nuevo Laredo, and Ciudad Juarez.
Use these tags to read more related posts and reviews:
---
Let us know if this article was useful for you