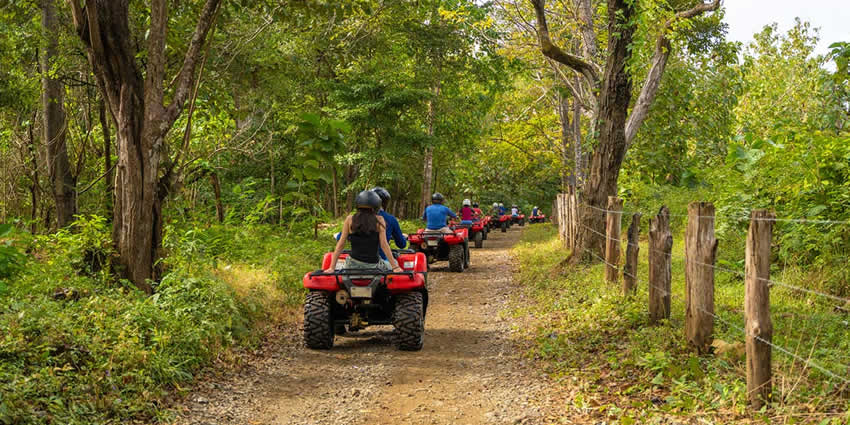 Things to do in Cancun with kids
A family-friendly vacation in fabulous Cancun is in the books. Once the travel dates are selected, plane tickets and hotels booked, the excitement shifts into planning mode, and the prompt scheduling of activities begins.
After all, keeping the little ones entertained while on vacation is a top priority that requires some creativity.
The excellent news is there are plenty of fun things to do in Cancun for children of all ages, so you can feel at ease knowing you picked the right place for your next family getaway. Here to help are 10 things to do in Cancun with kids.
Is Cancun a Family-Friendly Destination?
Absolutely! Cancun has evolved over the years from a Spring Break hangout to a welcoming world-class tourist attraction. Cancun's infrastructure and activities offer families the best vacation experiences.
With an extensive collection of resorts and tours designed with family fun in mind, there is no shortage of exciting things to do in Cancun. Its iconic beaches' calm, serene pool-like qualities are perfect for small children to enjoy alongside their parents.
What do Families Visiting Mexico do for Fun?
Mexico is a vibrant country full of captivating places for families to travel. One of the preferred places to visit in Mexico is Cancun. The undeniable appeal of this region is its exquisite natural beauty; it is the main attraction of this diverse destination.
With its white-sand beaches and vast tropical jungle surroundings, this region has plenty of fun excursions awaiting those who appreciate nature. If you want your kids to connect deeply with the planet, Cancun is just the place to do so.
The activities available are an exciting way to learn more about Mother Nature.
Water Activities -Swimming, Snorkeling, Stand-Up Paddle & more
An all-time favorite thing to do in Cancun, Mexico, is snorkeling. The pristine water conditions allow the little ones to spot colorful fishes, making the experience extraordinary.
The idyllic Cancun beaches offer endless aquatic adventures like stand-up paddling and kayaking, to name a few. Of course, swimming and building sandcastles with the kiddos is guaranteed fun.
Swimming with Dolphins, Sea Turtles, and Whale Sharks!
Other excursions in Cancun that fascinate kids are swimming with dolphins, sea turtles, and even whale sharks! Being in close contact with these creatures will give your children a story to tell back home while they encounter firsthand the vast marine life of the region.
Explore the Cenotes!
For a more adventurous outing, take the family swimming in a cenote. You can find these freshwater limestone caves all along the Yucatan Peninsula. The Mayans once revered these natural rock formations in the lush jungle as sacred.
The local tour guides take you back in time with an enchaining tale that seems right out of an adventure book. The kids will get a kick out of it while also having a blast diving into these nature-designed pools.
ATV Tours through the Jungle
Adrenaline-filled tours are always a great way to keep the troops entertained. Taking a ride through the Mayan jungle on an ATV off-road expedition is a great way to spend the day while catching a glimpse of the local fauna.
Cancun's Famous Aquatic Parks
Cancun is one of the busiest tourist destinations in Mexico, entertaining thousands of visitors each year. The large display of tours, activities, and shows Cancun has to offer is what you would expect from a first-class city.
Adventure parks are a great way to entertain the kids, and Cancun has an excellent lineup, including Xel-Há, a top-rated eco-water park nestled in a large natural bay.
This extensive park offers multiple experiences such as jungle hikes, snorkeling, ziplining, and even a cenote to explore. Xel-Há is a terrific place to visit if you want a complete adventure pack in one place.
Another popular activity in Cancun's hotel zone includes Ventura Park, a more traditional aquatic park with fun slippery slides, bungee swings, zipline, and go-karts! It is a wonderful option for an exciting day with the family.
Visit the Interactive Aquarium
The Interactive Aquarium can be a refreshing escape from the sun. It is not only an entertaining and educational space that children enjoy but one of those cheap activities in Cancun you want to include in your kid's to-do list.
Explore the Underwater Museum, MUSA
An exciting underwater expedition at MUSA "Museo Subacuático de Arte" is a unique excursion that will spark your kids' sense of adventure. There are a few ways to uncover this one-of-a-kind museum between Cancun and Isla Mujeres.
One is a glass-bottom boat that will reveal the wonders below. But to get the whole experience, it is best to scuba or snorkel to get a close view of the various sculptors and art pieces anchored to the bottom of the ocean.
This unforgettable journey under the sea will highlight your family's vacation.
Plan a Day Trip to an Island
Taking a day trip to Isla Mujeres or Cozumel is a highly recommended visit. It is a treat from beginning to end. It starts with a colorful ferry ride to the islands. This popular island excursion is one of the best things to do in Cancun.
Once you arrive, you can rent a golf cart and go on an expedition to find some of the most beautiful beaches. The ferry for Isla Mujeres leaves from Cancun's hotel zone, while to visit Cozumel, you must depart from Playa del Carmen.
Go and Visit Chichén Itzá!
If you are looking for a one-of-a-kind tour, take the time to explore the grand Chichén Itzá. The full-day adventure begins with a 2-hour drive from Cancun with a lunch stop in the quaint town of Valladolid.
Chichén Itzá is one of the New Seven Wonders of the world. This sprawling Mayan city is full of enchantment, with the majestic Kukulcan Pyramid taking center stage. The overall cultural experience is something the entire family will remember forever.
Go on board the Jolly Roger Pirate Cruise
A family vacation in Cancun would not be complete without an entertaining evening show. The Jolly Roger Pirate Cruise is a standout show that is perfect for kids. Yes, it involves a pirate adventure in the Caribbean!
The ship is an impressive replica of Columbus's flagship, a visual piece of art. This dynamic show sails away from a dock in Cancun's hotel zone and sails around the bay for 3.5 hours of fun, great food, and a spellbinding spectacle.
The exciting voyage will have everyone entertained, the little ones with the thrilling theatrics pirate show, and the adults with a feast of gourmet dining, including an open premium bar and live music.
The colorful fireworks display lights up the Cancun sky for a photographic moment to end the magical journey. And if you are celebrating a special occasion, The Jolly Rodger Pirate Cruise is the place to feel extra special.
Vacations are the perfect occasion for families to bond and build happy memories.
Exploring new cultures and sites and filling the days with endless laughter and fun is what creating those lifetime memories is all about – choosing a place like Cancun that warmly welcomes families while fulfilling everyone's expectations.
After all, a Mexico adventure would not be complete without a to-do that makes everyone happy!
Use these tags to read more related posts and reviews:
---
Let us know if this article was useful for you