Discover the beauty of Acapulco, a Mexican iconic beach destination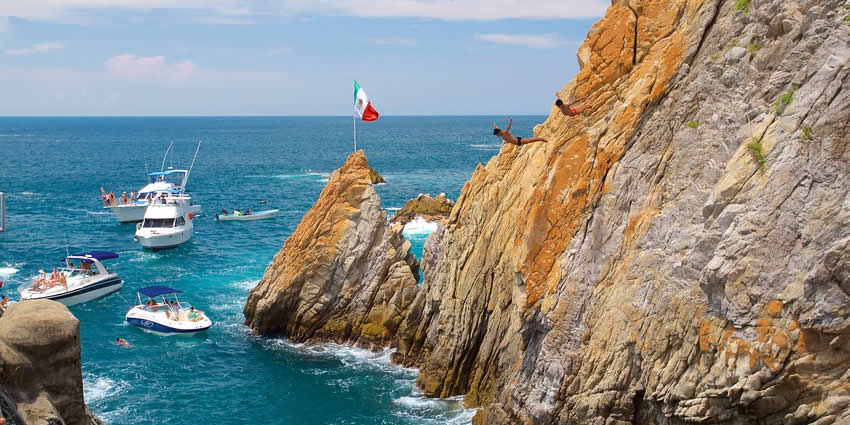 Acapulco, a picturesque city located on Mexico's Pacific coast, is renowned for its stunning beaches, vibrant nightlife, and rich history. Whether you're a sun-seeker, a beach bum, or a history buff, Acapulco has something to offer for everyone.
In this guide, we'll explore all the best things to see and do in this iconic Mexican destination.
Acapulco boasts some of Mexico's most beautiful beaches, with crystal clear waters and soft golden sands.
Some of the most popular beaches include Caletilla Beach, Revolcadero Beach, and Hornos Beach. Each beach has its own unique atmosphere and is perfect for a variety of activities, such as sunbathing, swimming, snorkeling, and more.
Acapulco is also known for its electric nightlife, with a plethora of bars, clubs, and restaurants that come to life after dark.
From high-end clubs to laid-back bars, there is something for everyone in Acapulco. You can dance the night away to live music, enjoy a delicious meal, or simply relax with a drink while taking in the city's stunning views.
Acapulco has a rich and fascinating history, dating back to the 16th century when it was a major port for the Spanish galleons.
Today, visitors can visit the Fort of San Diego, which was built in the 17th century to protect the city from pirate attacks, and the House of Culture, which showcases the city's rich cultural heritage.
Acapulco is a must-visit destination for anyone looking to experience Mexico's stunning beaches, electric nightlife, and rich history.
Must-visit tourist attractions in Acapulco
Acapulco has a wealth of tourist attractions for visitors to explore.
Here are some of the must-visit tourist attractions in Acapulco:
La Quebrada Cliff – This stunning natural landmark is famous for its cliff divers who plunge into the ocean.
Acapulco Bay – The city's main bay offers panoramic views of the Pacific Ocean.
Fort of San Diego – This fort was built to protect the city from pirate attacks and is now a museum.
House of Culture – This cultural center showcases the city's heritage, with exhibits on history, art, and culture.
Papagayo Park – This popular amusement park features a variety of rides, games, and attractions.
Mural Diego Rivera – This famous mural can be found in the Acapulco Cultural Center.
Acapulco Botanical Garden – This lush garden with plants and wildlife, is a perfect place to enjoy nature.
These are just a few of the many tourist attractions that visitors can enjoy in Acapulco. Whether you're a history buff, a beach lover, or an adventurer, there is something for everyone in this iconic Mexican city.
Book your trip to Acapulco today and discover the beauty of this iconic Mexican city for yourself!
Use these tags to read more related posts and reviews:
---
Let us know if this article was useful for you