A brief intro to travel in Merida, Mexico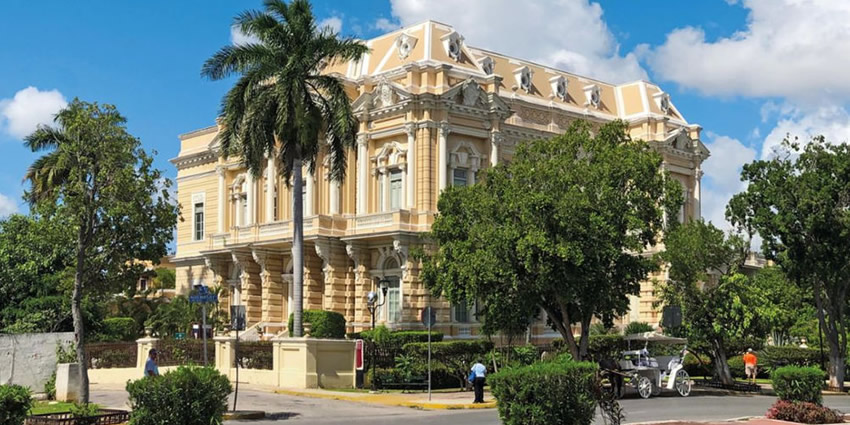 Mérida has become one of the popular travel destinations in Mexico. There are so many awesome things to do in Merida. If planning a trip to the Yucatan, we hope this travel guide provides inspiration for many fun things to do in Merida!
Merida truly is a beautiful travel destination, inside and out.
Nicknamed the "Ciudad Blanca" ("White City"), you certainly do see some white structures while roaming around the grid-like streets of this charming colonial city.
Yet the white buildings seem to be outnumbered by colorful pastel dwellings, adding much vibrancy to Merida's colonial architecture.
But it's Merida's culture that shines through even brighter. Perhaps that helps to explain why Merida is the only city that has been twice selected to serve as the American Capital of Culture (in 2000 and in 2017).
You can find culture oozing all throughout Merida, whether admiring ancient Mayan artwork at a museum or simply soaking in the local culture that's abundant within the swinging doors of Merida's cantinas.
The many cultural things to do in Merida and even the daily cultural events are a big appeal to Yucatan's largest city. Adding to the cultural allure, the people living in Mérida, many of Mayan descent, are such a friendly and welcoming bunch.
Additionally, most of the top things to do in Mérida are actually free, from free walking tours to Merida's many free museums.
Are you looking for ideas on what to do in Merida, Mexico?
This travel guide dishes out some of the best things to do in Merida that we now recommend to you!
Best Things to Do In Merida Mexico
There are so many great things to do in the city of Merida itself. Yet it can become a bit perplexing to figure out exactly where everything is and how best to plan out a day in Merida.
Best intro to Merida: Take a walking tour through the city center area
Discover the Mayan world at the "Gran Museo del Mundo Maya" in Merida
Get lost amongst the chaos in the "Lucas de Galvez Market" in Merida
Roam Merida's famed Paseo de Montejo
Step back in time and into the historic mansions along the Paseo de Montejo
Relax and connect among Mexico's most pleasant plazas
Explore public buildings surrounding Plaza Grande
Museum of Contemporary Art in Merida
Glimpse into Merida's Wealthy Past – "Casa de Montejo"
Merida's grand cathedral – Catedral de San Ildefonso
Palacio Municipal of Merida
Open-air strolls and magnificent murals – "Palacio de Gobierno" in Merida
Unfortunately, Mérida is not a bike-friendly city. There are no bike lanes or paths throughout Merida center. Instead, you'll find hectic narrow streets and even skinnier sidewalks which are for pedestrians only.
But this all changes each Sunday morning.
Every Sunday, some of Merida's most beautiful and popular streets are shut down for the Bici Ruta (Bike Route). This allows cyclists a chance to ride around town.
Much of the city comes out on Sunday morning to take a part in this weekly Sunday bike ride tradition.
There's no need to worry about traffic or cars at all on Sunday mornings. It's only then that vehicles are blocked from the Biciruta route that cuts right through the heart of Merida.
Cruise on the beautiful wide streets of Paseo de Montejo which were modeled to be like the Champs-Élysées. Pedal on past the lovely town squares. Have a friendly race with a child.
If you're here on a Sunday morning, the Bici Ruta is the thing to do in Mérida. Don't miss it.
You don't have to look far to find a bike rental. Simply walk up the Paseo, where you should find stands that are renting bikes.
The tradition of this ancient sport is kept alive during this weekly event that unfolds in front of the Cathedral. Each Wednesday, watch the players battle it out while traditional live music accompanies the spectacle.
Although this game is played as a re-creation for demonstrative purposes, the players are very much into the game with a high level of competitive spirit.
Scoring is actually quite rare. Doing so is extremely difficult, particularly during this abridged 30-minute version of this game. So if someone does manage to complete a goal, consider yourself lucky and be sure to cheer loudly!
The Pok Ta Pok event in Merida is a free event that now requires a ticket.
This ticket requirement and the Wednesday timing is a change in 2022. Merida's Pok Ta Pok event was previously held on Saturdays, no ticket is needed.
Even with a ticket, it is strongly advised to arrive at least 15-20 minutes early to get a good spot in the bleachers set up for this event. Seats do fill up and may not be available for late arrivals.
Merida has some interesting and popular annual events to consider if your visit happens to coincide with the right time of year.
January brings Merida Fest, which spans the course of several weeks of nightly fiestas.
If you're lucky enough to be visiting Merida in January, be sure not to miss the opening night trova stroll to Plaza Grande that precedes an awesome fireworks display to ring in Merida Fest.
Be sure to mark your calendars for Merida Fest 2022, which should prove to be a particularly large celebration since this year is Merida's 480th birthday!
The 18-day celebration will run from January 5-23, 2022, and is supercharged with many concerts, cultural shows, artistic performances, and other events.
February (or March) in Merida (pending the Easter/Lent calendar each year) brings Carnaval of Merida.
Events are held throughout the city, with several big parades now held at the X'matkuil Fairgrounds (rather than its former location along the Paseo de Montejo).
Free shuttle buses provide transportation from the center of town. Merida Carnaval brings upon a really fun party during this Latin American tradition.
So if your visit to Merida coincides with this annual event, be sure to head out to the fairgrounds to watch all the lively floats go by while sipping on a michelada!
September marks Mexico's Independence Day and Merida has festive celebrations throughout the city. Head over to Plaza Grande on the evening of Sept 15th, for El Grito. The fiesta continues throughout the city on Septemberer 16th.
Meanwhile early November ushers in traditional Day of the Dead displays and festivities that you can find throughout Centro.
Día de Muertos in Merida is known locally as Hanal Pixán. It's the Mayan tradition of Day of the Dead.
In Merida, the holiday is punctuated by Paseo de las Animas event in which a spirited stroll occurs from San Juan to the General Cemetery.
Finally, Christmas in Merida brings out decorations, a festive atmosphere, and other holiday traditions. It's a fun time of year to spend in Merida, for a warm-weather holiday season.
And that's just a smattering of major happenings, as there are many other annual events in Merida popping up in between. You can find sporting events, concerts, ballads, operas, races, and so much more.
Most of Merida's annual events are free, including the Carnaval Merida and Merida Fest, and take place all over town, generally in the center, except for Merida Carnaval which is at the X'matkuil Fairgrounds.
Another aspect of Merida's culture to enjoy is the unique Yucatan cuisine. The food throughout Merida is delicious and distinctive to the region. Merida is home to some of the best cuisines in Mexico.
Sure, you can find Mexican favorites such as great tacos and "elote" ("corn") in Merida. But the Yucatan holds its own regional specialties. Any visitor to Merida absolutely must try the local Yucatan cuisine.
There are many regional dishes found in Merida that are unique, distinctive, and quite different from elsewhere in Mexico.
Much of this Yucatan cuisine has roots in traditional Mayan cooking, yet with heavy influences from Europe, the Caribbean, and other Mexican regions. The culmination of cooking cultures makes for some interesting local cuisine to try in Merida.
That's what makes eating one of the best things to do in Merida!
Merida's nightlife is fun and active, particularly so on weekends. In fact, if planning a trip to Mérida, we recommend trying to stay over a weekend. That's when the entire city tends to come out to play!
After dancing the night away at Merida's free nightly cultural events, you can rest well at many great inexpensive hotels to stay in the center of town.
Even if you're not actually going to have a night out at the theatre, curious visitors should at least pop into the Teatro Jose Peon Contreras during the day. It's a worthwhile thing to do in Merida to simply have a look around the elegant century-old theatre.
While stopping by, don't hesitate to visit the small, free, air-conditioned art museum on-site. This little museum can simultaneously be used as a great excuse to cool off while viewing the funky exhibits.
After taking in the art, walk by the impressive marble staircase towards the box office to see if there may be any events during your visit. Typically there are symphonies on most (not all) Fridays at 9:00 pm and Sundays at Noon.
Getting tickets for a theatre night could prove to be a classy way to spend a Friday evening, or to escape the mid-day heat on a Sunday.
The Peon Theatre itself is stunning, which provides an air of elegance, and is free to visit. Yet spending a few pesos on a night at the theatre in Merida remains a surprisingly budget-friendly pursuit.
Use these tags to read more related posts and reviews:
---
Let us know if this article was useful for you