The best time to visit Mexico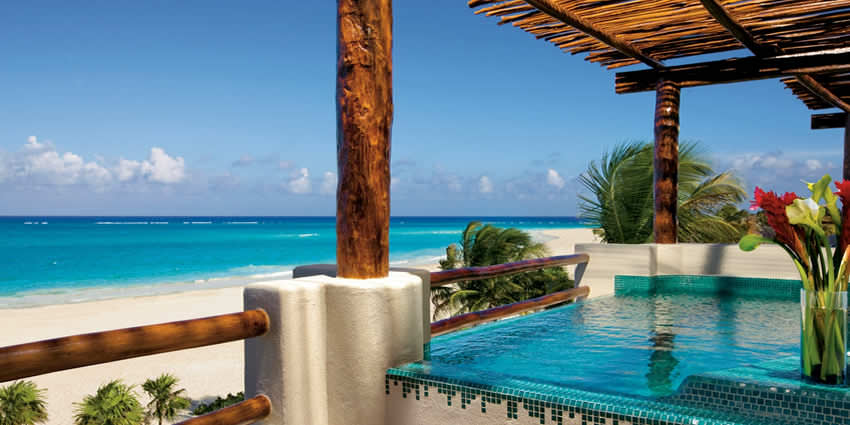 Mexico is a huge country and the weather varies by season and region. There really is no bad time to visit Mexico, but certain times of the year may appeal to different people more than others, and some destinations and activities may be better at certain times of the year.
The optimum time to visit is generally between December and April, when there is virtually no rain.
The coolest months are between December and February, while the wet season begins in the south in May and lasts until October. A heavy shower during this period usually clears the increased humidity before it builds up again.
The Caribbean coast can be affected by the hurricane season, which runs from June to November.
When's Mexico's dry season?
Between the months of December and April the country experiences the least amount of rain.
The temperature averages at a comfortable 24 degrees during these months, so you can expect clear blue skies and virtually no clouds.
Mexico has two different coasts – the Pacific and the Caribbean.
If you opt for the Pacific Coast you can expect surf-worthy waves and an impressive watersports portfolio.
For more chilled-out days, meanwhile, make tracks for the Caribbean side. Cancun, Playacar and Riviera Maya all boast calm, turquoise waters that are ideal for days spent snorkelling or relaxing with a cocktail.
When's Mexico's rainy season?
The coolest months in Mexico tend to vary by region, but as a general rule of thumb, the rainy season runs from May to September.
And although the entire Caribbean experiences showers during these months, that shouldn't put you off going on holiday.
In fact, the rain in Mexico tends to take place in the late afternoon, and are extremely short, meaning you'll still have hours of glorious sunshine for most of the day. Also, a spot of rain can bring down those high humidity levels.
When's Mexico's hurricane season?
The official hurricane season in Mexico arises at the start of June and at the end of November. According to the Met Office, the highest risk of hurricanes is between September and October, due to higher sea temperatures.
However, there's no need to panic, as this usually just means high winds and the occasional storm.
When's it quietest in Mexico?
If solitude sounds like your thing, it's best to visit Mexico between May and June, or September to December. During these months, fewer holidaymakers mean prices are generally lower.
This also equals quieter beaches and hotels, too. One of the top places to escape the crowds is in Riviera Maya. This place is renowned for its sandy beaches, reef diving spots and laid-back Mayan culture – so it's ideal for those who want to relax and get back to nature.
From June to October
Summer, from June to October, is in theory the rainy season in Mexico, but just how wet it is varies wildly from place to place.
In the heart of the country you can expect a heavy but short-lived downpour virtually every afternoon; in the north hardly any rain falls, ever.
Chiapas is the wettest state, with many minor roads washed out in the autumn, and in the south and low-lying coastal areas summer is stickily humid too.
From September to mid-October
Along the beaches, September to mid-October is hurricane season – you'll usually get wet weather, choppy seas and mosquitoes, if not a full-on tropical storm.
Late winter is the traditional tourist season, worth considering when thinking about the best time to visit, and in the big resorts like Acapulco and Cancún, the months from December through to April are the busiest.
Mountain areas, though, can get very cold then; in fact, nights in the mountains can be extremely cold at any time of year.
Visitors come all year round – sticking on the whole to the highlands in summer and the coasts in winter.
November is probably the ideal time to visit, with the rains over, the land still fresh and the peak season not yet begun.
Baja California
January: 26°C-14mm
February: 26°C-4mm
March: 27°C-1mm
Abril: 29°C-1mm
May: 31°C-0mm
June: 32°C-1mm
July: 33°C-22mm
August: 33°C-41mm
September: 33°C-71mm
October: 32°C-34mm
November: 30°C-12mm
December: 27°C-13mm
Merida & Around
January: 28°C-33mm
February: 29°C-27mm
March: 32°C-18mm
Abril: 33°C-22mm
May: 33°C-70mm
June: 33°C-142mm
July: 32°C-141mm
August: 33°C-149mm
September: 32°C-172mm
October: 30°C-97mm
November: 29°C-43mm
December: 28°C-36mm
Mexico City & Around
January: 22°C-9mm
February: 24°C-7mm
March: 26°C-11mm
Abril: 27°C-23mm
May: 27°C-54mm
June: 26°C-114mm
July: 24°C-129mm
August: 25°C-123mm
September: 24°C-107mm
October: 23°C-52mm
November: 23°C-8mm
December: 22°C-7mm
Oaxaca
January: 26°C-2mm
February: 28°C-5mm
March: 30°C-10mm
Abril: 31°C-32mm
May: 31°C-71mm
June: 29°C-158mm
July: 28°C-108mm
August: 28°C-108mm
September: 27°C-127mm
October: 27°C-41mm
November: 27°C-9mm
December: 26°C-3mm
Pacific Coast
January: 33°C-11mm
February: 33°C-1mm
March: 33°C-2mm
Abril: 34°C-3mm
May: 34°C-27mm
June: 34°C-231mm
July: 34°C-212mm
August: 34°C-262mm
September: 33°C-293mm
October: 33°C-118mm
November: 33°C-30mm
December: 33°C-7mm
San Cristobal de las Casas
January: 21°C-24mm
February: 21°C-22mm
March: 23°C-27mm
Abril: 23°C-46mm
May: 23°C-114mm
June: 22°C-208mm
July: 22°C-165mm
August: 22°C-184mm
September: 21°C-215mm
October: 21°C-126mm
November: 21°C-53mm
December: 20°C-29mm
This article was contributed by TravelInnTour – an inspiring travel and tourism blog.
Use these tags to read more related posts and reviews:
---
Let us know if this article was useful for you