Swim near ancient Mayan ruins at cenote Ik Kil in Yucatan, Mexico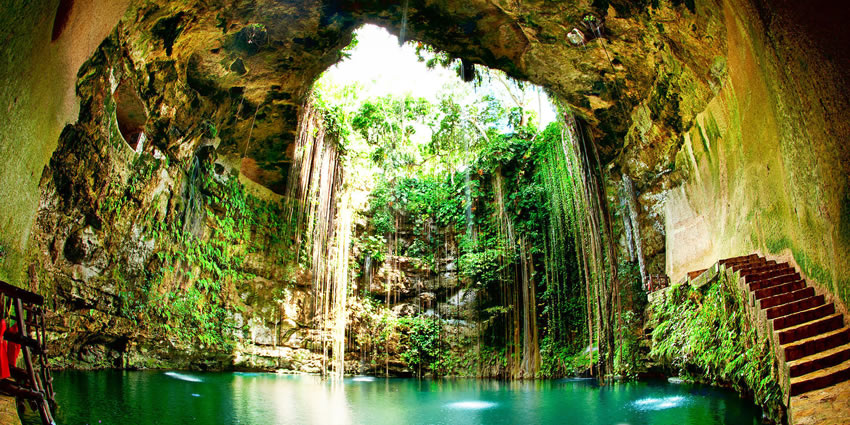 The Yucatan Peninsula boasts breathtaking natural wonders, from postcard-perfect sandy beaches and waterfalls to lush jungles, underwater caves, and natural sinkholes known as cenotes.
This region is home to some 4,000 cenotes, each with its own distinct features and all ideal for swimming. The water inside these cenotes is strikingly clear and thousands come from across the globe just for the chance to enjoy a refreshing dip.
One of the most visited is Cenote Ik Kil, and it's also considered one of the most beautiful swimming holes in the world.
Cenote Ik Kil is located relatively close to the Mayan ruins of Chichen Itza.
Many say that it's one of the most stunning of its kind in all of Mexico. Unlike many other cenotes in the country, Cenote Ik Kil also offers some excellent facilities, including a restaurant and cottages for overnight stays.
The round cenote boasts gorgeous waterfalls and green vegetation that hangs all the way down to the clear crystal water, which is perfect for snorkeling as well as swimming. There is a carved stairway that leads down to the swimming platform.
You'll have to climb down 85 feet to reach the refreshing waters that are just over 131 feet deep. This cenote was considered sacred by the Mayans, who once performed human sacrifices to their rain god here.
Bones and jewelry have been found in the deep waters of the cenote by archaeologists and speleologists.
If you visit on a day trip, try to go earlier in the morning, as it tends to get quite crowded in the afternoon with many heading here after a visit to the nearby ruins of Chichen Itza.
No matter when you go, it's sure to be one of the highlights of your Yucatan vacation.
Use these tags to read more related posts and reviews:
---
Let us know if this article was useful for you